Key Features
Investment Justification
Test your SOC response on a real threat and demonstrate the value of IT Security investments to the Executive Board by simulating modern adversary behaviors.
On Demand Verification
Easy measurement and on-demand verification if your current network security solutions meet the compliance policy assumptions and work as expected
Red Team Automation
Out of the box adversary tools, techniques, and procedures delivered in the box allows for quickly deliver value and save time and money.
Skills Improvement
Continuous learning about details of sophisticated network data exfiltration and lateral movement actions you have not been aware of before

Platform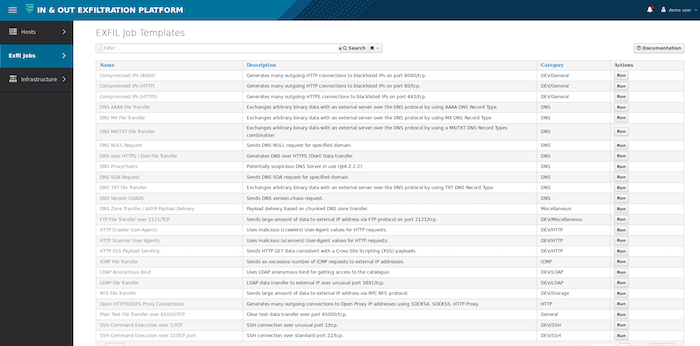 Basic Subscription
The single-node environment provided as VM image dedicated for Business:
Ready to run on your own laptop
One direction traffic only - internal to external
A limited number of eXfil job definitions
Shared C2 infrastructure
Full access to the In & Out Knowledge Base
Supports Proof of Concept / Proof of Value programs
Useful for Technical Presales Engineers who want to sell better IT Security products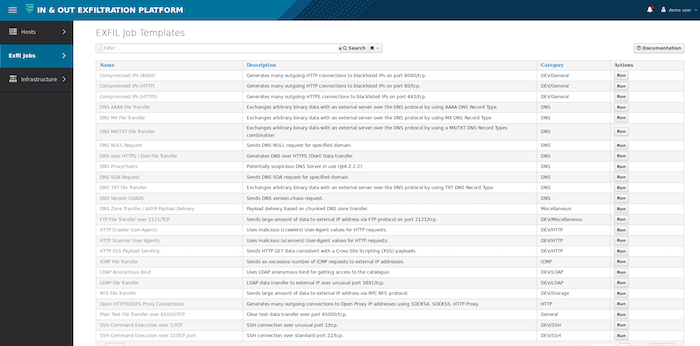 Enterprise Subscription
The multi-node environment provided as VM images dedicated to Enterprise:
Ready to run in your multi-segment enterprise environment
Multi-direction traffic (int2ext, int2dmz, dmz2ad, ad2mgmt, ad2ad, int2int, etc.)
The full number of eXfil job definitions
Dedicated C2 Cloud Infrastructure
Full access to the In & Out Knowledge Base
Useful for Red / Blue / Purple teams who want to validate network security posture
Training and workshops included
Try for free
Sign up for a 7 days demo access. No credit card required.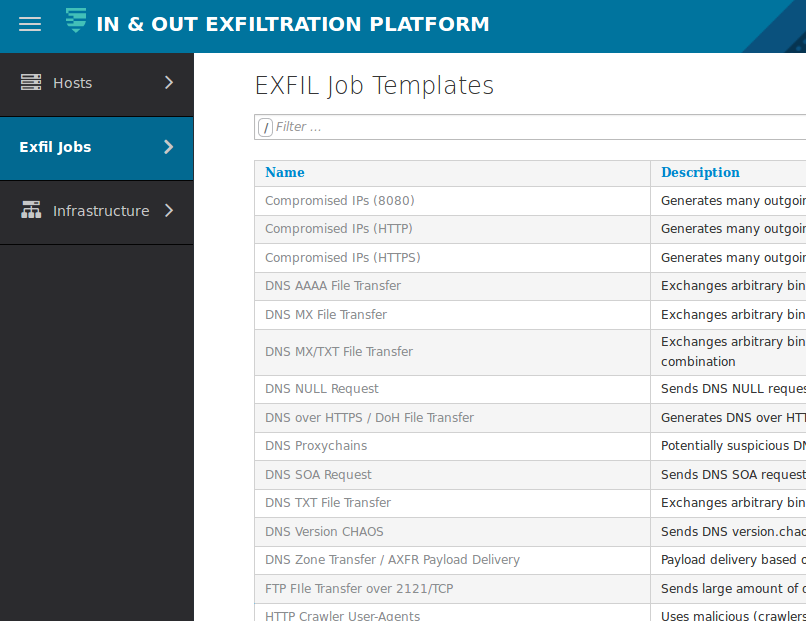 What you will get:
7 days of Demo Access to play with the platform in the cloud
The full list of simulation job definitions
Cloud-based DEMO environment
No Credit Card required
No installation steps - just the web browser needed
Our Customers & Recommendations
Contact Us
If you have any question, please use the form below: